Destin Harvest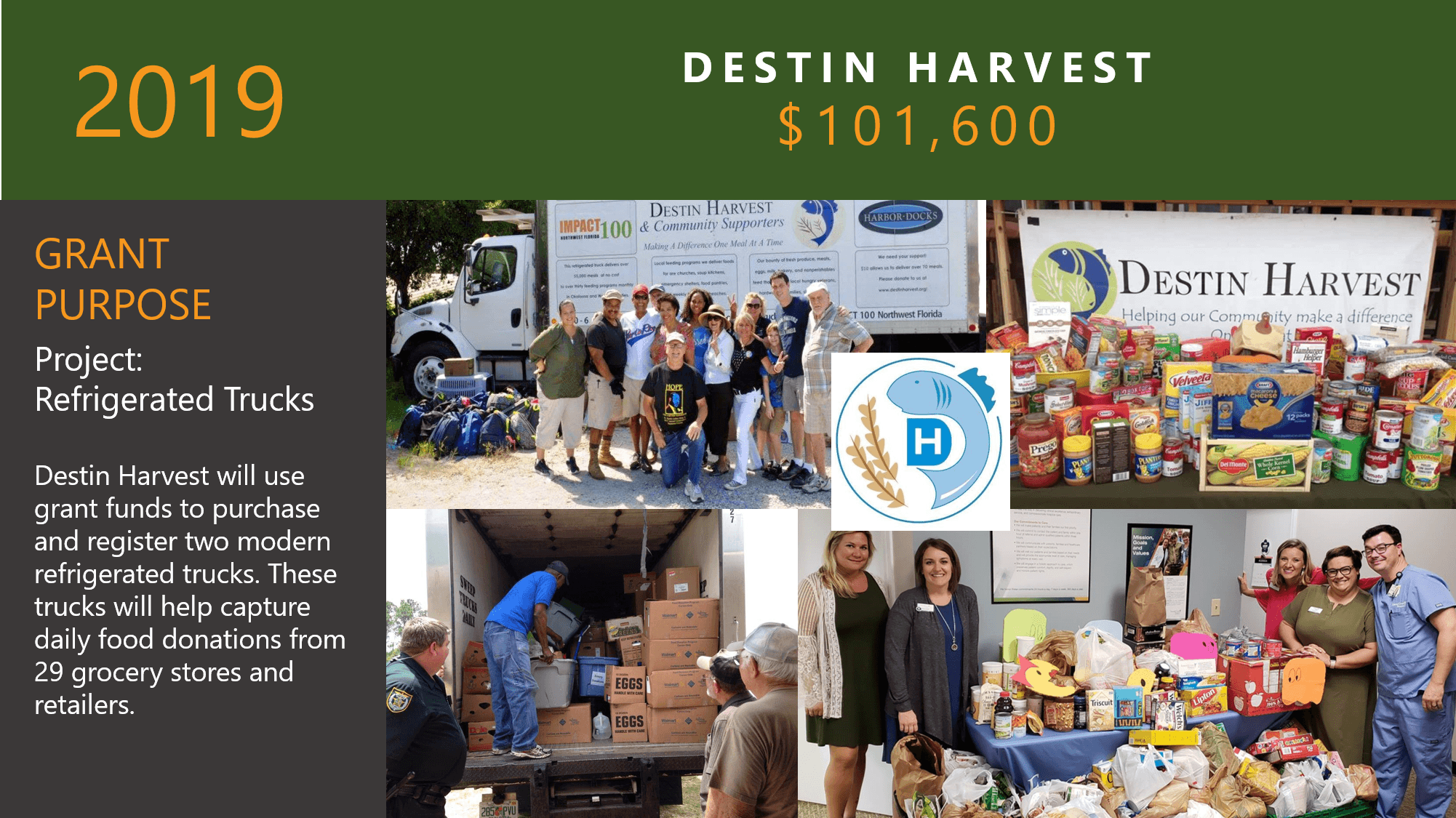 Destin Harvest seeks support to upgrade its fleet of refrigerated trucks that capture daily food donations from 29 grocery stores and retailers in Destin, SRB, FWB, Defuniak, and Freeport. DH recently acquired 3 new grocery stores in Defuniak and Freeport that represent an additional 15k pounds of food, or meals, delivered a month to local feeding programs.
With overwhelming need spilling into both counties from Hurricane Michael, the new grocery store pick-ups in Freeport and Defuniak represent an answer for local feeding programs and the people they serve.
Destin Harvest must upgrade its fleet of trucks to continue to distribute high-volume food donations and take on new stores. DH has already racked up $23k in repair bills this year alone.
Destin Harvest captured over 2.2 million pounds of food last year from all participating local food retailers and distributed it all for free to 40 feeding programs in both Okaloosa and Walton County.
DH will use Impact 100 funds to purchase and register two really nice, late-model refrigerated food trucks. The trucks will ensure Destin Harvest can continue making pick-ups at three new grocery stores in Walton County, as well as maintain weekly pick-ups from 29 total retail food donors and distribution to feeding programs without interruption.
Destin Harvest will use funds to print vinyl artwork on both trucks that displays DHs logo and prominently recognizes Impact 100 of NWFLs generous sponsorship on each side.
With limited resources and growing demand of individuals and families seeking hunger relief, local feeding programs cannot afford to miss a weekly drop from Destin Harvest. FFR is a transformative effort to bolster DHs commitment to food donors and recipient feeding programs. DH simply cannot afford to repair trucks that continually breakdown with refrigerators that constantly seize up.
With a more dependable fleet of trucks, Destin Harvest will be in an improved position to take on new stores and routes as they become available. DH currently distributes into Crestview without picking up any of the foods from their stores. DH would like to eventually acquire access to those stores from Feeding the Gulf Coast.
Destin Harvest has operational support for its pick-up and distribution routes.
Destin Harvest will have no trouble handling the three new stores in Walton County with two good latemodel refrigerated trucks. An improved, more reliable fleet of trucks will also put DH in a stronger position to acquire stores in Niceville, Crestview, and Watercolor.
Additional expenses such as truck fuel, maintenance, and insurance will be secured through sponsorships on the food trucks and established fundraisers and benefactors.