Emerald Coast Children?s Advocacy Center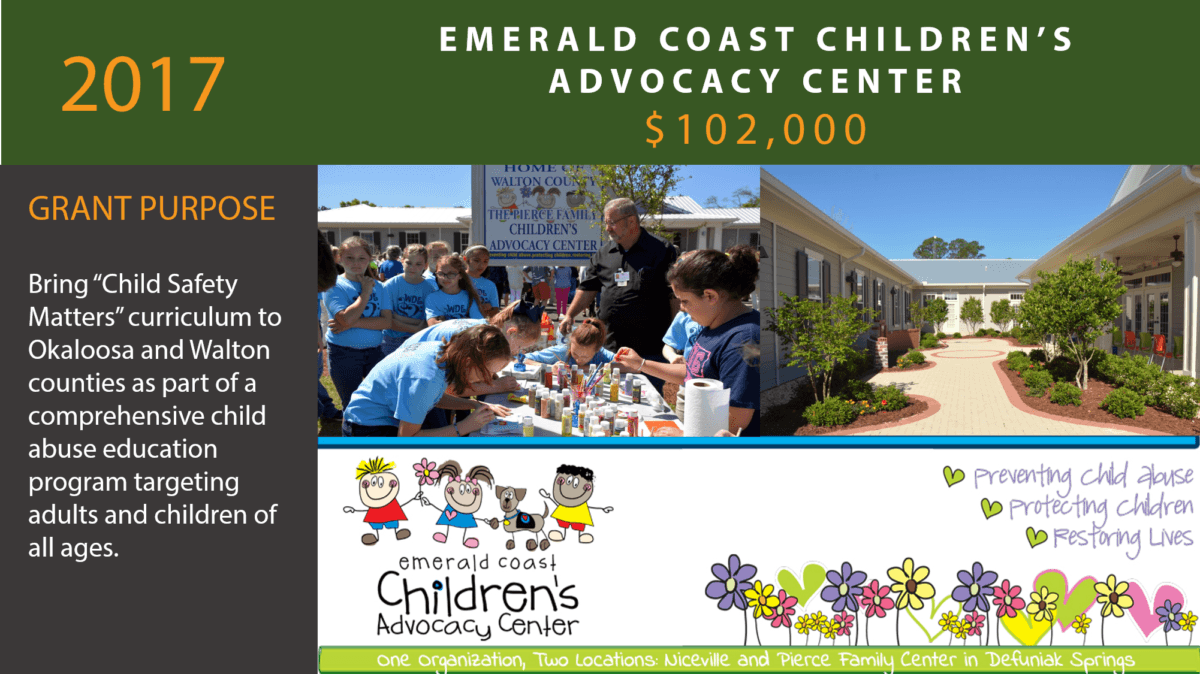 Emerald Coast Childrens Advocacy Center

Over the past seventeen years, the Emerald Coast Childrens Advocacy Centers primary mission has been helping child victims in the aftermath of abuse. Since opening our doors in October of 2000, we have provided services to more than 11,000 children experiencing the most horrendous abuse in our communities sexual, physical, drug endangerment, and severe neglect. These numbers are alarming. Even more alarming is statistically we are only seeing about a third of the child abuse victims who desperately need our services. Twenty-two thousand (22,000) more children needed us. We werent there.
As an organization, we ask ourselves these questions? What can we do to reduce the number of children being abused and reach those who are? What would have the highest impact, reach the masses, transform a communities approach to addressing child abuse, bullying, and online dangers? What could fundamentally change our organizational focus while enhancing our existing mission to accomplish this. We strive for a community of healthy, happy children of all ages living lives free of abuse and neglect. What is the best approach? The answer lies in developing a community-minded comprehensive child abuse prevention program.
The Center is committed to preventing child victimization, increasing the number of disclosures by child abuse victims, and increasing adult reporting of suspected abuse. This would fundamentally shift our mission to one of intervention plus prevention. We are requesting Impact 100 funds to assist in developing and delivering a comprehensive child abuse prevention program to the community. Ninety-five (95) percent of child abuse is preventable.
The Centers proposed Child Abuse Prevention Program would include an array of prevention curriculum targeting adults and children of all ages. It will include Child Safety Matters curriculum, a research-based program that teaches Safety Rules, Safety Choices, strategies for recognizing and responding to safe vs. unsafe situations, preventing and reacting to bullying, cyberbullying, online dangers and all forms of child abuse and exploitation. It is used statewide EXCEPT in three counties. Unfortunately, OKALOOSA and WALTON are two of those areas. We will also incorporate our Riley (therapy dog) prevention videos. We could potentially impact a minimum of 20,000 students a year. The Darkness to Light curriculum will be used to impact adults to help them identify and react responsibly to children who may have been sexually abused. Research shows child abuse is under-reported by adults in large part because of a lack of knowledge.
The program will provide community-minded child abuse prevention education through a comprehensive marketing campaign. The campaign would consist of both traditional, social media using radio, television advertising, community presentations, videos, town hall meetings to reach the masses, potentially impacting 100,000 plus citizens.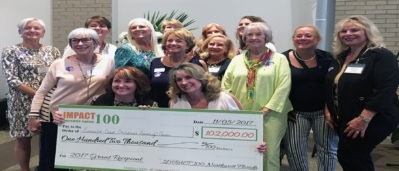 To the generous Ladies of IMPACT 100,


Over the past 17 years, the Emerald Coast Childrens Advocacy Center has provided services to over 12,000 child abuse victims in our community. Sadly, these are only reported cases abuse and statistics tell us there are probably 2/3 (24,000) more children who need us. The Center and its agency partners work together to meet the needs of the child while holding offenders accountable.


And so what if we could stop abuse before it happens. What if we could identify children who need us who dont know how to find us.. Today we can because of the kind and generous gift of Impact 100 NWF. With this gift, we will work toward creating a comprehensive community prevention program to include educating children beginning in kindergarten. We have the potential of reaching 20,000 children in Okaloosa and Walton counties. We will teach adults and the community to be advocates to keep children safe.


Our vision is that all children live free of abuse and neglect. They deserve no less. Impact 100 NWF is now a part of our team to make our vision a reality. Because all children ARE deserving of living free from abuse and neglect.


Forever Thankful,


Julie Porterfield CEO and the team at the Emerald Coast Childrens Advocacy Center.