Fresh Start for Children and Families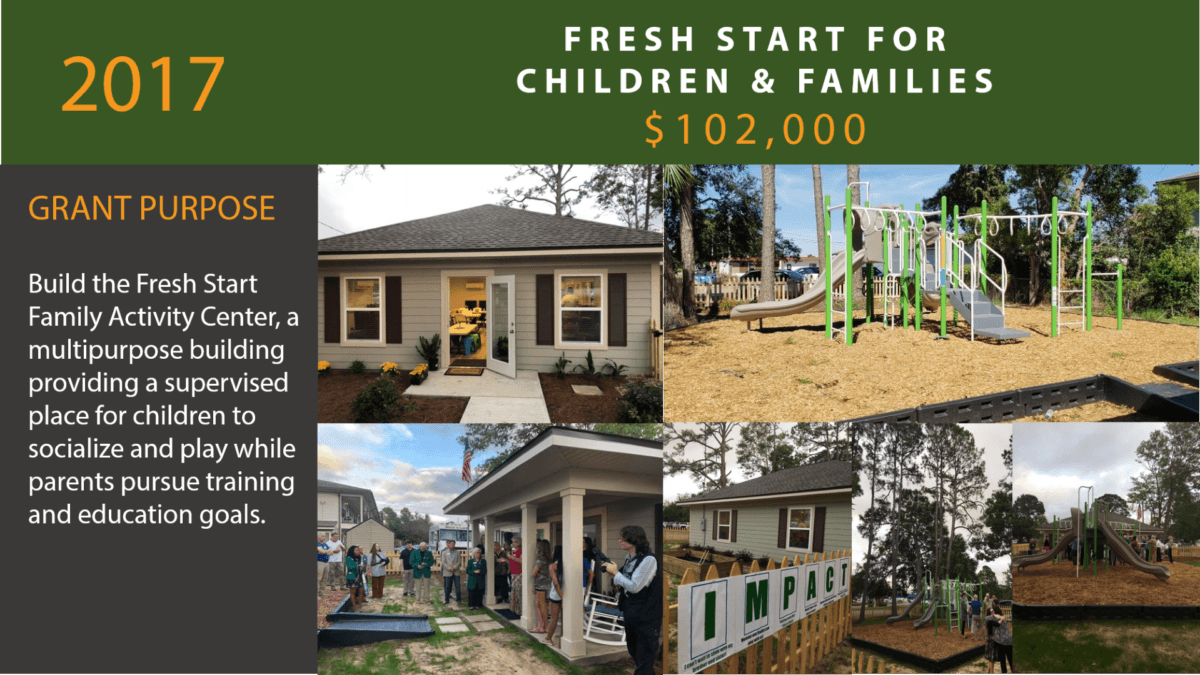 We are pleased to present the Fresh Start Family Activity Center. This shovel-ready project addresses a need for the Fresh Start program residents to have a supervised place where children can socialize and play while parents pursue their training and education goals.
Impact 100 funds will purchase a multi-purpose building, an ADA compliant playground, recreational play-pad, pavilion, sidewalks, fencing, lighting, and utilities for plant boxes and landscaping. Fresh Start will fund plants, art panels, environment features, furniture, and ongoing support (utilities, upkeep, etc).
Fresh Start has served homeless families in Okaloosa/Walton County for over 30 years by providing both temporary assistance and long-term relief via a Transitional Housing and Life Skills Program, leading to affordable Step-up housing. Fresh Start gives a pathway out of homelessness to 25-40 qualifying families each year. Our campus in Fort Walton Beach consists of two apartment buildings for residents enrolled in a nine-month transitional program and step-up housing for program graduates; an administrative building with learning center, food pantry and office; and the nearby Repeat Street thrift store.
A need exists for a dedicated childrens activity place that frees their parents to focus on acquiring self-sufficiency by escaping the factors that led to homelessness. In the absence of a secure play area, some families have left the transition program early because of difficulties in providing childcare while parents attend to program training requirements. The new facility will be next to the existing buildings, providing a gated playground and multipurpose room for the transitional and step-up housing residents. Privacy fencing will ensure a safe playground area in an environment free of the negative influences common in public parks. Most importantly, the new building will allow for supervised childrens activities.
Program support comes from United Way, Combined Federal Campaign, thrift store revenue, fundraising events, and private donations. The activity center will not add significant burden once constructed since the land and facility resources are already in place.
Construction can be completed within 18 months. Volunteer help and donated materials will speed project development, and the land has already been partially cleared by volunteers. Design and permitting are simplified by the purchase of a turn-key manufactured building, and a professionally installed playground designed for long-life and low maintenance. The Fort Walton Beach planning department has assisted in planning and sees no issues with zoning or permitting.
The Fresh Start staff and Board of Directors are eager to partner with Impact 100 to advance our families toward a stronger tomorrow.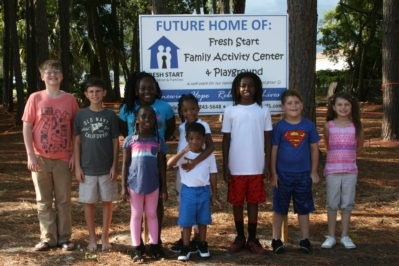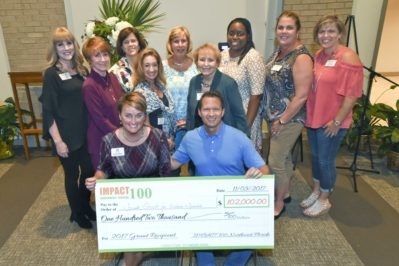 Funding from IMPACT 100 NWFL will enable Fresh Start to extend programs to the growing population of children whose lives are impacted after experiencing homelessness and transition. The Fresh Start mission is focused on homeless families with children by providing the tools necessary to help them achieve self-sufficiency. Despite our modern housing and educational programs for parents, we have not yet provided program opportunities that encourage child development, social growth, and physical recreation. Parents are not allowed to bring guests into their apartments, resulting in limited social opportunities for children. Staff provide seasonal activities when possible, and allows use of the small parking lot for a designated play area. The current classroom is in use most days for adult courses, leaving the children with no indoor place. The proposed activity center will fill this gap and allow all members of the family to fully engage in programs (both academically and socially) where goals can be fully achieved.


This IIMPACT 100 grant will enable Fresh Start to develop the missing component: The Fresh Start Family Impact Center. Specifically, the grant will be used to purchase a multi purpose building, two sets of ADA compliant playground equipment (for ages 2-5 and 5-12), a recreational play-pad, pavilion, chalkboard fencing for free expression, plant boxes and more. The plant boxes will be part of a grow your own food program, where families can harvest fruits and vegetables. Additionally, a paved path will frame the perimeter of the Family Impact Center to encourage exercise; a safe place for kids riding tricycles, moms pushing strollers, kids pulling wagons, etc.


This activity center now lies directly at the heart of our mission to offer a comprehensive long term, program for families-to better equip them with the tools and facilities necessary to rebuild their lives while residing here. The activities provided through this grant will truly be life changing for our families. Most importantly, we can provide a healthy structure for the children, who can grow to appreciate and be a healthy part of their community.


Thank you for funding this initiative. Because of you, our children will have a dedicated program to recover, grow, and thrive.


With sincere appreciation,


Tracey Williams, Executive Director Fresh Start For Children and Families