Habitat for Humanity of Walton County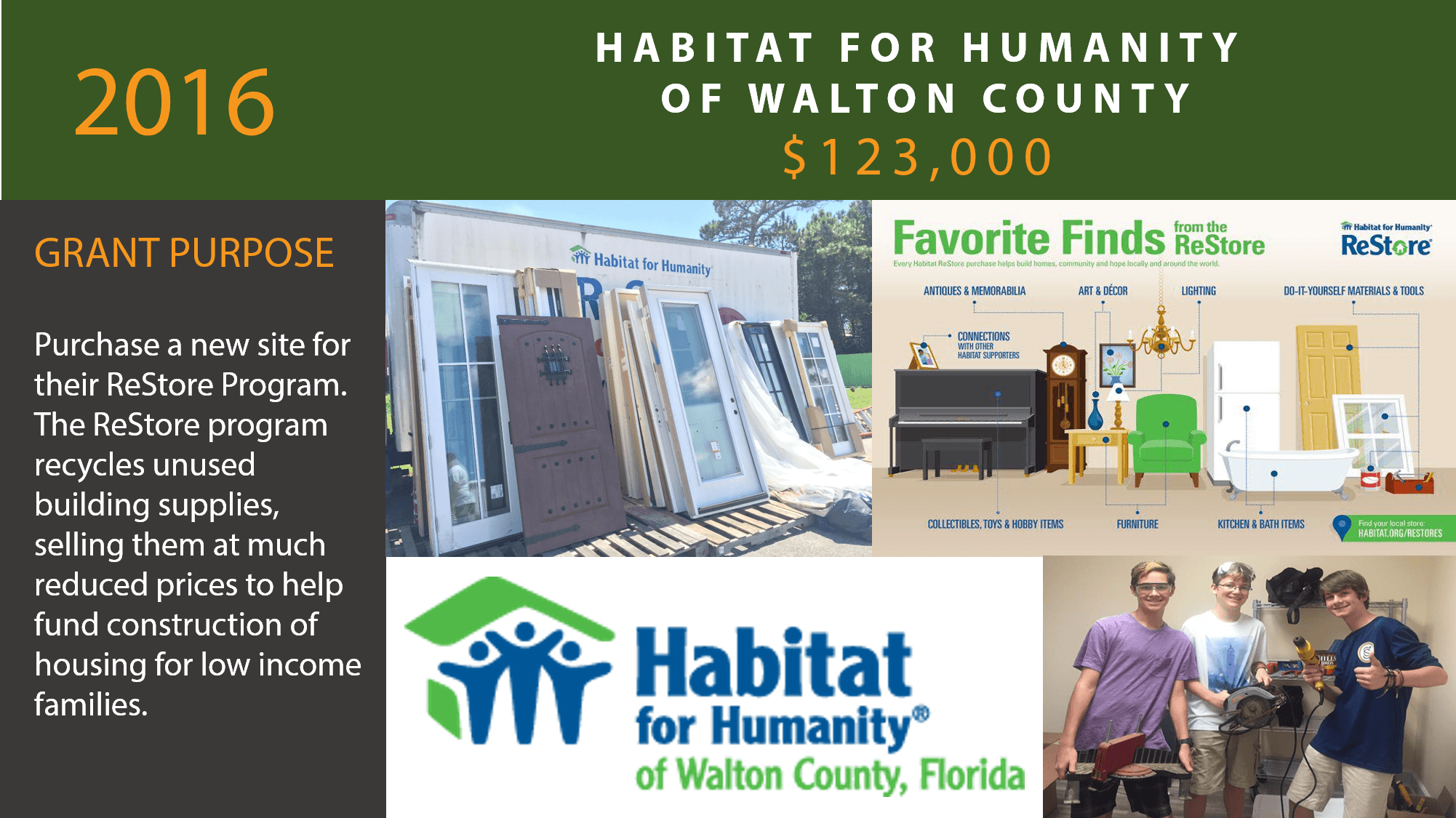 HABITAT FOR HUMANITY OF WALTON COUNTY


Seeking to put Gods love into action, Habitat for Humanity brings people together to build homes, communities, and hope. Its vision is a world where everyone has a safe and decent place to live. In addition to its housing ministry, Habitat for Humanity of Walton County (HFHWC) operates a building thrift store or ReStore. The ReStores mission is to reduce landfill waste by facilitating the reuse of products, serve the community by providing low cost merchandise, and generate revenue for our housing ministry through the sales of donated items.
Like the need for affordable housing in our area, the need for affordable housing goods, products, and construction materials is overwhelming. Walton County is mostly a tourist destination; there are very few options in the area to buy these items, let alone at a greatly reduced rate. There are many thrift stores in Walton County, however, HFHWC is the only store that carries unique items such as cabinets, sinks, tubs, doors, windows, lumber, fixtures, flooring and many other household items that would typically end up in the dumpster if not for HFHWCs ReStore. There are countless items that are currently being thrown away that could be recycled or reused if HFHWC had a place to store these items.
HFHWC ReStore will use the grant monies to build an expanded facility. Lack of adequate space, flooding, lack of secure and covered storage and very small display areas are major issues at the current location, causing HFHWC to lose donated product and patronage daily. This grant funding will allow HFHWC to obtain a permanent location that will help them to continue to serve the community and reduce landfill waste congruently. Another facility will increase the net funds that the ReStore contributes to Habitats ongoing building program, and greatly reduce the amount of durable goods and solid waste and flow to Walton county landfills. Its existing sales performance show that it is well received in the community and that it diverts substantial durable goods away from the waste stream to Walton County landfills.
To the Members of IMPACT 100 of Northwest Florida,

Habitat for Humanity of Walton County, FL Inc feels incredibly blessed to be chosen as a 2016 beneficiary of a $123,000 grant from your wonderful organization. These grant funds will be used to create a permanent home for our ReStore, which is our building thrift store in Santa Rosa Beach. Like many of our homeowners, our ReStore has had to move 3 times over the past 10 years and like our homeowners, we need a permanent home to grow and thrive in. Our organization served thousands last year through our ReStore doing over 7400 transactions. With an expanded facility we look forward to serving even more families through your grant. There arent a lot of places for us to go for the type of funding that your organization offers to local non-profits in our area. By not having to finance our down payment your $123,000 grant will save our organization over $52,000 in interest alone.

This quote, from Habitat for Humanitys founder, Millard Fuller really puts it in prospective as to what we find our Habitat families needing:

A house is to a family what soil is to a plant. We all seem to know this deep down. You can pull a plant up out of the soil, pour all the water in the world on it, give it plenty of sunlight and it will eventually die because it is not rooted. A plant needs to be rooted. A family is like that. If a family is not rooted, it will not flourish, it will not growwill not blossom. But once a family is well-rooted, all kinds of wonderful things will begin to happen.

Millard Fuller, founder of Habitat for Humanity, est. 1976, Lanett, Alabama

Thank you for allowing me the opportunity to share our affordable housing mission with your organization and members. Its aspiring to meet so many compassionate women that care enough to make a difference. Many individuals and families alike will forever be changed because of you wonderful woman. With your grant we look forward to building more homes, hopes, and lives together.

In Partnership,

Teresa Imdieke, Executive Director Habitat for Humanity of Walton County