Okaloosa AIDS Support & Informational Services (OA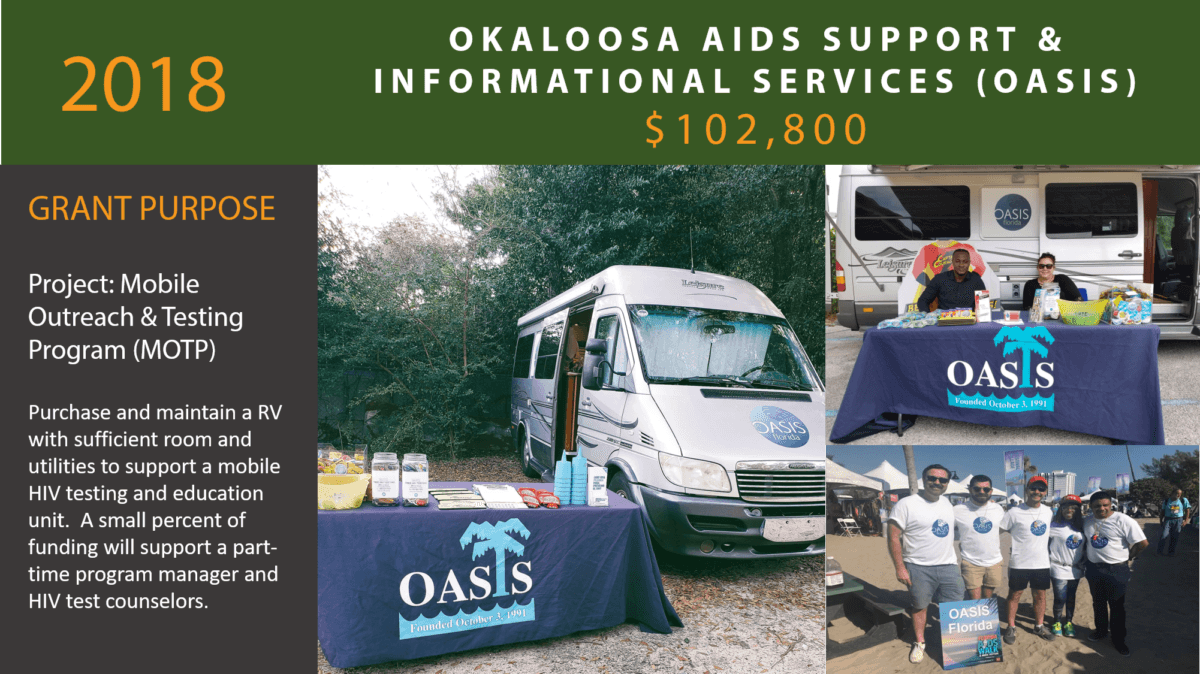 Okaloosa AIDS Support & Informational Services (OASIS)


Okaloosa AIDS Support & Informational Services (OASIS) mission is to work to prevent the spread of HIV and to support those affected by HIV and AIDS through education, advocacy, case management, testing, counseling, linkage to care and retention.
Project Mobile Outreach and Testing Program (MOTP) will target at-risk populations where the greatest number of new infections occur in rural areas and pockets of poverty in urban areas. The program is aimed at reducing new infections to zero.
Besides testing and education, Peer Navigators will travel on the MOTP to meet and stay in touch with identified persons living with HIV/AIDS. They will help assure that their peers are referred into treatment and remain until their viral load is reduced below transmission potential. The Peer Navigator program overcomes limitations at OASIS Florida for Case Management services.
The grant fund will be used to purchase and maintain an RV with sufficient room and utilities to support a mobile HIV testing and education unit. A small percent of the funding will support a part-time program manager and HIV test counselors.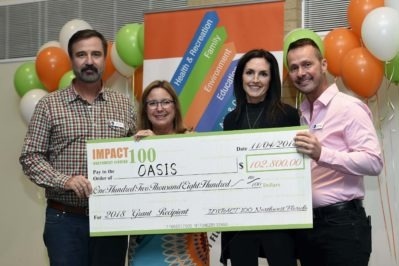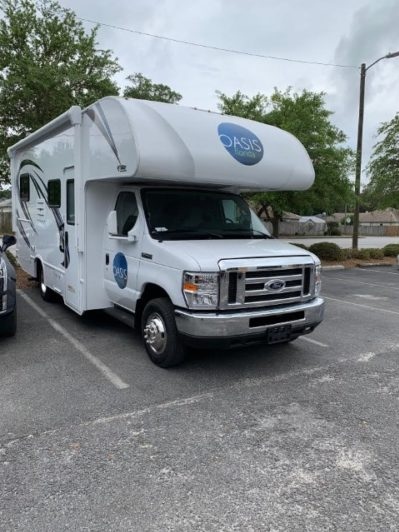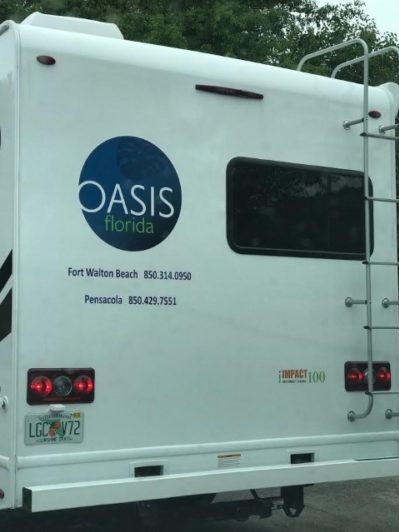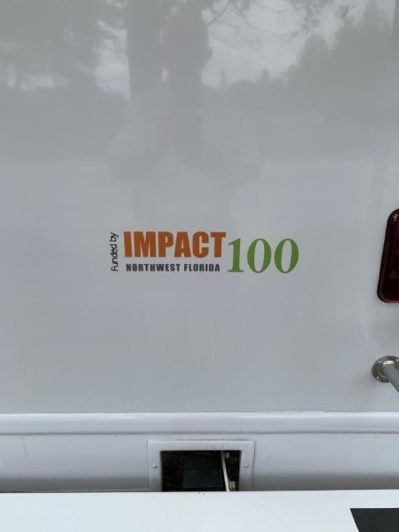 Dear Impact 100 Ladies,
June 5th 1981 the CDC published a report describing a rare lung infection, Pneumocystis Pneumonia in five young, previously healthy gay men in Los Angeles. All of the men had other unusual infections as well indicating that their immune systems werent working. Two had already died by the time the report was published and with-in days doctors from across the U.S. flooded the CDC with reports of similar cases. This marked the start of our fight.
Thirty-seven years later and almost 40 million dead, I still have to ask organizations like yours for money to help fund programs that can actually make a difference. Ladies, the Mobile Outreach Program youre funding is going to make a difference in our community!
The face of HIV today is so much different than it was in those early days. Heterosexual women are being infected with HIV at alarming rates. Too many times these women have suffered sexual, emotional and physical abuse. Often they have children suffering along with them. OASIS is there to help these women through our case management services. We can provide assistance with things like housing, utilities, food and medical care. But, accessing these services has proven difficult for women that live in more rural areas of our community. Transportation is a barrier that prevents them from coming to our offices. Well, by funding our Mobile Outreach Program youve removed that barrier to our services for these women!
Thrity-seven years into the epidemic we still dont have a cure or vaccine. However, just through the miracle of modern medicine we actually have the ability to eliminate HIV! The advancement in HIV medicine means that a person living with HIV CANNOT pass the virus along to their sexual partners if they are successfully treated! This is called Treatment as Prevention (TasP) There is also a medication a person who is at risk of HIV can take that will prevent them from becoming HIV positive (PrEP). There is no reason for another person has to get HIV.
Through TasP and PrEP we can effectively eliminate HIV from our communities. Testing is the key to making that happen. If we can get everyone tested, treat those who are found to be living with HIV, and increase PrEP use in those who are negative but at risk, we will win the long fight against this disease. This is actually within reach!
By funding the Mobile Outreach Unit you have increased the ability OASIS has to do testing and prevention education in the community. Instead of having to wait for people to show up at our offices, we will be out providing this service in every community.
On a personal level, I really want to sincerely thank you for funding this program. Ive seen this disease change from a gay mans disease to one that hits every community in every socio-economic background. HIV does not discriminate. But the stigma and stereotypes remain. People such as heterosexual women too often dont think they are at risk. As Director of Prevention, I now have another very important tool at my disposal to educate our community about todays HIV realities.
Everyone is at risk. Everyone should be tested.
The future is bright! We have the tools to stop this disease! Your funding helps us bring those tools to our community.
Thank you!
Kurt Goodman
Director of Prevention